Booking
Summer Camps
Learn more about our 2021 summer camps.
Halton Basketball
Register for Halton Basketball Club at Elevate The Community.
Summer Camps
REGISTRATION NOW OPEN!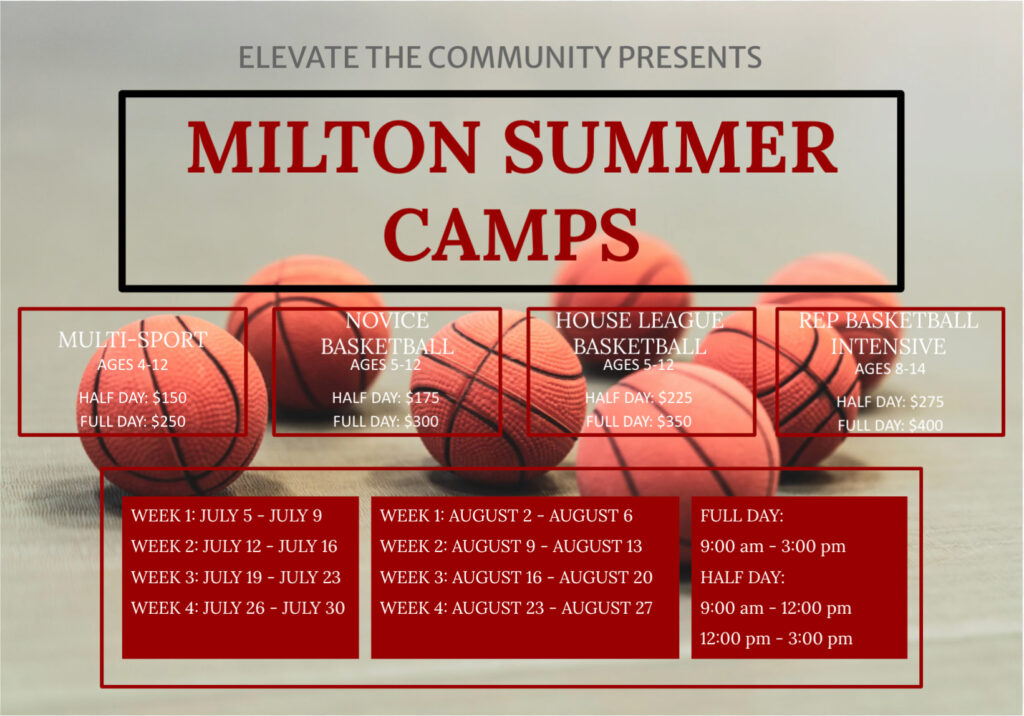 Elevate the Community Inc. has been waiting to hear the sounds of laughter again within our facility! Whether you have never participated in basketball or play high level basketball, we have a camp designed to empower, learn, and push comfort zones. Our incredible staff and large facilities will give everyone the chance to exercise their bodies and brains.
As we are preparing for a safe opening, spots may be limited. Get in on the action now, as there is something for all between the ages of 4 – 14. (see FAQs)
Details
Each camp will be running all eight weeks:
Week 1: July 5 th – July 9 th
Week 2: July 12 th – July 16 th
Week 3: July 19 th – July 23 rd
Week 4: July 26 th – July 30 th
Week 5: Aug 3 nd – Aug 6 th
Week 6: Aug 9 th – Aug 13 th
Week 7: Aug 16 th – Aug 20 th
Week 8: Aug 24 th – Aug 27 th

The hours for camp are:
Full day camps run from 9:00 a.m. – 3:00 p.m.
Morning half day camps run from 9:00 a.m. – 12:00 p.m.
Afternoon half day camps run from 12:00 p.m. – 3:00 p.m.
Before & After Care Available (purchase option available with booking)
Before Care begins at 8:00 a.m.
After Care ends at 4:00 p.m.
Lunch (purchase option available with booking)
We offer a $50* meal plan (available to full day campers only) for lunch everyday from the Elevate Sweet Spot. A different meal will be provided each day (for example: Mac & Cheese, Cheese Pizza, etc.) from Monday to Thursday; Friday lunch includes a hot dog, chips and slushie. You can select and pay for this option when registering.
*Meals plans are $40 for the four day camp following August Long Weekend.
Multi-Sport
The multi-sport camps are designed for children who are looking to get out, and have some fun getting physically active, by trying sports such as volleyball, pickleball, dodgeball, yoga, soccer, basketball and more!
Novice Basketball
Our novice basketball level is for kids who have none to little basketball experience and are looking to be introduced to basketball and get active with other activities.
House League
The house league level is for kids who have some experience with basketball looking to improve technique and fundamental skills. The athletes will be trained by accomplished basketball trainers and a special guest from a motivational speaker.
REP Basketball
The REP basketball intensive offers training for players looking to try out for rep or who have experience in rep. The goal of this camp is to brush up and fine tune technique and skills. The athletes will be trained by accomplished basketball trainers and will have a motivational speaker as a special guest.
FAQs
I have filled in, and submitted the form! Is my registered guaranteed?
Registration is not guaranteed until payment is received. Payment can be made by credit card over the phone, or via e-transfer. Please contact us to arrange payment.
Is there before and after care?
Yes! We offer before or after care for $75.00 per child per week. Before care will start at 8:00am, while after care ends at 4:00pm. If you require both before and after care, it is $150.00 per child per week. You must select and pay for this/these options when registering, otherwise we are not accepting early drop offs and late pick ups. Late pick up fees still apply to after care.
How will you ensure the camps will be covid safe?
We are taking appropriate precautions and adhering to the Ministry of Health's Guidance for Summer Day Camps in order to keep everyone safe. Physical distancing, covid screening, enhanced facility cleaning will help prevent the spread in our facility. Campers will be placed in cohorts based on age in order to promote physical distancing. We will do our best to meet special requests to keep children who are in the same bubble in the same cohort. Emphasis will be placed on individual activities.
Staggered drop off and pick up times will be assigned per cohort (age group) – consideration will be placed for families that enrol more than one child. We encourage only one parent to drop off the camper. Parents and guardians will only be allowed to enter the building to assist with screening and registration; aside from that, parents are not allowed to visit the courts although they are encouraged to grab a coffee or other food at the Sweet Spot while dropping or picking up their child. Children or staff who experience symptoms of illness will be sent home immediately. If your child is ill, please do not send them to camp. Should any camper or staff show covid symptoms or suspect a case, Halton Region Public Health will be contacted and further action will be taken based on their advice. Refunds related to a Covid-19 shutdown will be issued.
What should campers bring?
Campers are encouraged to bring a water bottle, snacks (morning/afternoon) and a lunch. A hot dog and slushie lunch will be provided on the last day of camp (Friday) for full day campers. For full day campers, Parents have the option to pay extra ($50 available when registering) to have a lunch provided everyday.
Note: Campers with dietary restrictions may chose the option of mac and cheese en lieu hot dog. None of our food can be guaranteed nut free so children with peanut or nut allergies should bring their lunch everyday.
It is highly recommended players bring their own basketball. If your child/children do not own a basketball, please let us know prior to their camp start date and we can have sanitized basketballs available for use.
Campers should wear appropriate clothing and shoes (non-marking running shoes) for a long day of physical exercise. ***There may be some outdoor activities so bring outdoor shoes, sunscreen, a hat. ***
Are there late pick-up fee's?
There is a late pick up fee of $10 for each 15 minute period after the ending time of the camp.
Is there a waiting list?
There is a waiting list after camps fill up to capacity. Full payment is required to secure to your childs participation at the camp. Parents and guardians will be notified when an opening opens up if placed on the waiting list. Refunds will be provided if provincial guidelines change.
What is the cancellation policy?
A full refund will be issued if cancellation request is received before two weeks prior to the camp. Within a week of camp, a partial refund may be issued. Any cancellations received after the week prior to the camp will not receive a refund. Cancellation is required within two weeks. Refunds related to Covid-19 may be issued on a case-by-case basis.